Gib Weiter - Die Flaschenpost
Pass it on - the bottle post

If you like to send us photos, comments or feedback, click here or write to noname(at)namenlos.org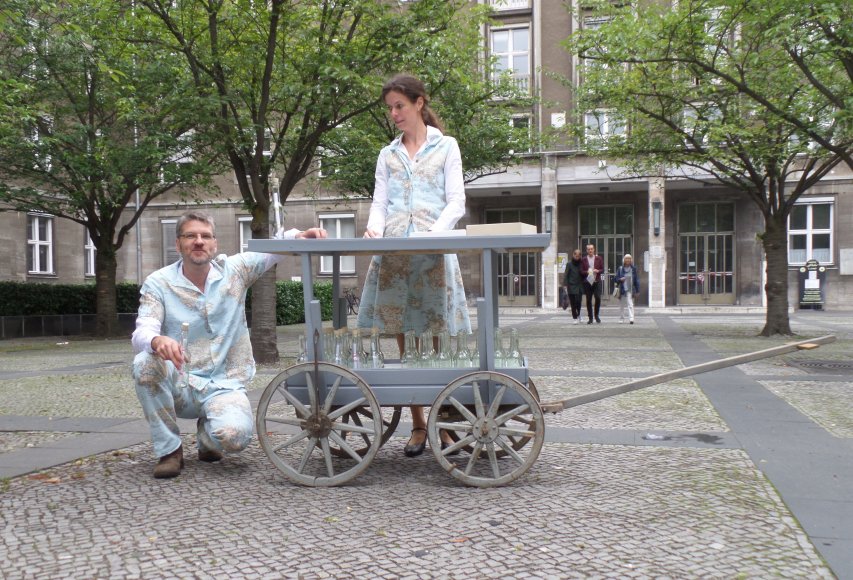 Das Flaschenpost-Projekt der Geopoeten
Ein Projekt von
Albrecht Fersch
und
Lilla von Puttkamer
. Gefördert von
miKrOPROJEKTE
/ Berlin
Unter dem Namen DIE GEOPOETEN verteilen wir 1000 Flaschen, größtenteils im Berliner Stadtraum Wedding und Moabit.
Jede Flasche ist gefüllt mit einem Blatt Papier und dieser Gebrauchsanweisung:



We are Die Geopoeten. Albrecht Fersch and Lilla von Puttkamer. We distributed 1000 bottles, mostly in Berlin. Every bottle is filled with a slip of paper and this user manual: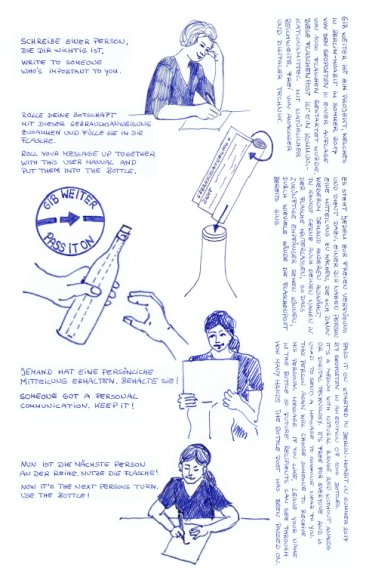 Diese "Gib-Weiter-Flaschen" werden von uns, als Flaschenpost-Boten, in Berliner Haushalte gebracht, werden auf Veranstaltungen, Märkten oder in Cafés an Passanten verteilt, Freunden und Bekannten überreicht.
Grundgedanke ist: wem eine Flaschenpost zugestellt wurde, der kann die Nachricht entnehmen, eine eigene persönliche Nachricht hineingeben und die Flasche an die nächste Person eigener Wahl weitergeben. Der Fluß der Benachrichtigungen wird sich unbegrenzt ausbreiten ...



Everyone who gets one of this "Pass-it-on-bottles" can take his message, write a new message and can pass it on to the next person. The flow of communication can go on and on ...



Verteilung am 1. und 2. Juli 2017 während "ortstermin" - Kulturfestival in Moabit.

Distribution during "ortstermin" - art festival in Berlin / Moabit.
Verteilung am 6. August 2017 auf dem Weddingmarkt.


Distribution during the Wedding Market.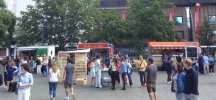 Einladung von RadioEins zur Freitagssendung "Die schöne Woche" am 11. August 2017.

Hier im Radiobeitrag - ein Interview mit Katja Weber und Holger Klein - berichten wir über unser Projekt
.


At the invitation of RadioEins we gave an

interview

.










Verteilung am 13. August 2017 aus Anlass einer Ausstellung von Albrecht Fersch und Peter Möller im Projektraum mp43 in Hellersdorf.


Distribution during an art exhibition at project space mp43 in Berlin / Hellersdorf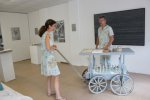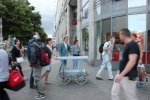 Verteilung am Freitag, 25. August zur unverblümt Kulturexpedition#17. Von georg+georg gibt es dazu auch einen schönen Film.


Distribution during a cultural expedition through Wedding / Berlin. There is a nice

film

about this event.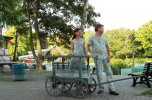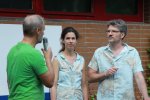 außerordentliche Sonderzustellung am 30. August 2017 auf dem Weg in den Spreewald
-
o
hne unseren schönen Wagen.


Special delivery - without our beautiful handcart - on the way to Spreewald.













Auf dem Weg durch Mitte am 9. September 2017 bis zum Bürgerfest beim Bundespräsidenten / Schloss Bellevue.


On our way through Berlin Mitte, ending at the Bürgerfest of the Federal President.




















Verteilung zu verschiedenen privaten Veranstaltungen.


Distribution during several private events.




















Eine Nachricht an die Welt.

A message to the world.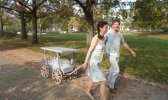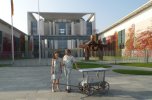 Verteilung im April 2018 anlässlich des 90-Jahre-Jubiläums "concreta festapoesia" der ungarischen Akademie in Rom.

Distribution on the occasion of the 90th anniversary "concreta festapoesia" of the Hungarian Academy in Roma.









Verteilung vom 24.8. bis 26.8.2018 anlässlich der Ausstellungseröffnung RADIUS X der Galerie plan.d. in Düsseldorf.

Distribution during the first three days of the opening of the exhibition RADIUS x / gallery plan.d. in Düsseldorf.









Außerordentliche Sonderzustellung im Januar 2019 in Äthiopien.
Special delivery in Ethiopia.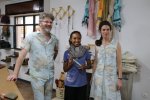 Die Flaschenpost ist unterwegs. Hier einige Fotos, die uns zugesandt wurden.
The bottle post is on its way. Here are some fotos which we received.


Hamburg






Freiburg


Frankfurt/Oder



Düsseldorf

Wien





Tutzing

Bochum